​
 Deputy First Minister and Cabinet Secretary for Education and Skills, John Swinney MSP, has launched the South of Scotland Skills and Learning Network Digital Hub at Dumfries and Galloway College.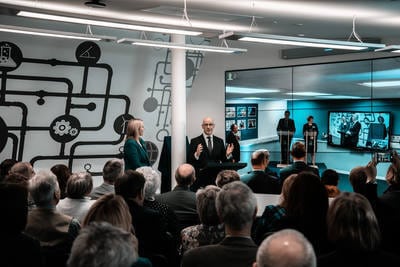 The hub is part of a £6.6million investment in the South of Scotland and comes as part of the South of Scotland Economic Partnership (SoSEP), which aims to widen access to learning opportunities.
Mr Swinney officially launched the programme during his recent visit to Dumfries and Galloway College.
During his visit, Mr Swinney received a tour of the college's new state-of-the-art Digital Care Centre and met staff and students working there.
The Cabinet Secretary also took part in a live link with Dumfries and Galloway College's partners at Borders College, during which he connected with their Principal, Angela Cox, and Minister for Business, Fair Work and Skills, Jamie Hepburn MSP.
In another demonstration of the cutting-edge technology available at the hub, Mr Swinney also linked up and interacted with a childcare class at Dumfries and Galloway College's campus in Stranraer.
To round off the visit, the Deputy First Minister met with Dumfries and Galloway College's social enterprise partners from The Usual Place Social Enterprise, which provides opportunities for young people with additional support needs and served up some delicious canapés during the visit.
The innovative partnership between Dumfries and Galloway College and Borders College allows for knowledge and expertise to be shared between the two colleges via digital platforms and further enables students to receive remote training while broadening the South of Scotland's training offer from foundation to degree level.
Working with partners from all sectors is key to Dumfries and Galloway College's ambition to support the South of Scotland region by ensuring that it has the education, resources, and innovative thinking it needs to thrive.
John Swinney MSP, Deputy First Minister and Cabinet Secretary for Education and Skills, said:
"The shared ambition for this exciting new digital and physical network is quite simply to widen access to learning opportunities for students and learners of all ages, irrespective of location.

"The latest technology installed here allows sessions to be live streamed, recorded and reviewed – whilst also letting users at other locations interact and collaborate.

"A major capital investment project funded with £6.7 million from the Scottish Government through the South of Scotland Economic Partnership, the network is already considered to be cutting-edge by those in the industry.

"The Government has now approved 30 projects throughout the region – including those that tackle skills needs, investment in community and business facilities, and learning and training. Projects such as this will allow the South to realise its full economic potential – as will the new agency South of Scotland Enterprise, which will launch on 1 April to support sustainable and inclusive economic growth across the region."
Principal Joanna Campbell said:
"Working in partnership with schools, our local authority, and all the other stakeholders involved in SoSEP allows us to multiply and maximise the knowledge, skills, talents, and resources that exist across the South of Scotland.

"Our Digital Learning and Skills Network gives us a framework to further boost that existing potential and allows us to demonstrate that healthcare training can be delivered with cutting edge technology.

"It is a forward-looking, industry-leading, and hugely impactful development of which we're all immensely proud." ​