The Digital Care Hub at our Dumfries Campus is a state-of-the-art facility, which simulates an environment to support individuals to continue living on their own, but also receiving further assistance from carers or family members. With equipment provided to us by the NHS, this fantastic building has been designed to be an invaluable teaching tool for our students to get hands-on experience. Students are able to create situations to gain confidence before going out to placement – learning new skills and knowledge in the care industry in a safe and calming environment.
---
The Flat
Technology is a prime component of the simulated care flat which allows students to see a best case scenario of how residents would live in a secure and enabling environment while feeling independent. Throughout the flat is a number a sensors connected to the Carezapp which can be accessed by any carer or relative. If the resident decides to move out of bed or open a door, individuals who have access will be able to check that the occupant is safe. Additionally, these incredible sensors are also able to detect breathing and heart rate.
Every little detail has been thought out to help people live at home for longer without physical support. Research has been done from lighting in the ceiling to the colours throughout the walls and outside of the buildings regarding the best practice for patients with dementia. Along with non-slip flooring, the whole flat showcases how people can live independently in an adapted environment.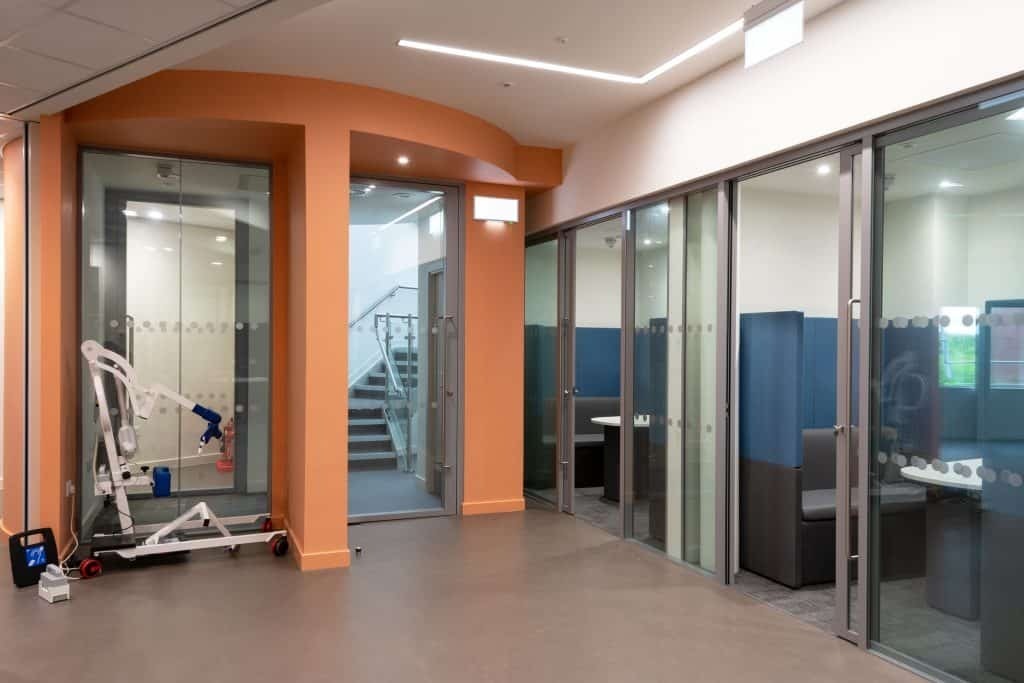 Specifications of the rooms
Kitchen
Toaster, crockery, dishtowels, and oven gloves are all red to contrast against cupboard and work surfaces.
Cutlery has been adapted to more specialised equipment for those with disabilities
Sensor on oven & hob to easily find controls if an individual has sight issues and cools quickly to prevent burns.
Flood preventions plug in the sink when the tap has been left on
Sink & the hob can move to a height that is suitable for the user and will stop lowering if it senses any objects.
Cupboards have all content labelled with a bold pictorial representative of contents with a handle to bring the content lower. They can also be moved electronically up and down for easier access.
Oven door can fold under and the tray pull out for extra surfaces when food is hot out of the oven.
Microwave has a pull-out tray underneath for residents to pull out anything hot without hurting themselves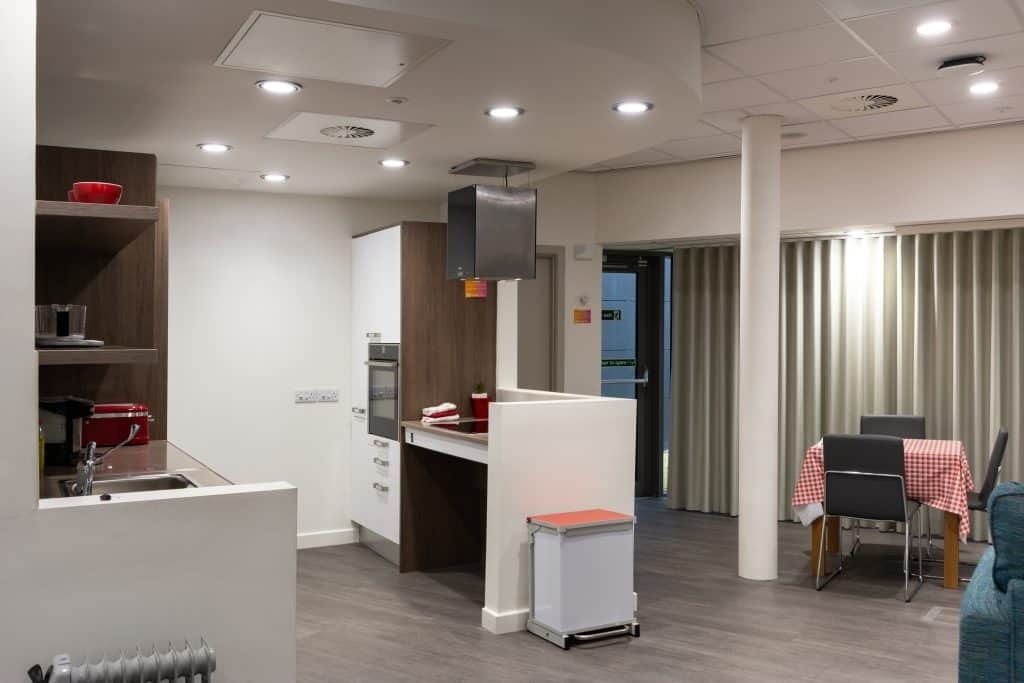 Living / Dining Room
Doorbell will make a sound and have a light flashing so those with harder hearing will see the light flashing.
Curtains prevent seeing reflections and are remote controlled. They have also been designed with one thin curtain to allow light and a thicker curtain when needed.
Wide and electric wheelchairs can easily exit into a safety area outside with the double fire door.
Recliner chair that can also stand a person up with a wired control set
A camel, equipment to help raise someone off the floor who has fallen
Amazon Echo, connected to wireless technology. This can be used with plugs, lights and hive equipment.
A large telephone for the visually impaired
A TV monitor with the ability to connect to the GP, health services, or family remotely via Vscene technology.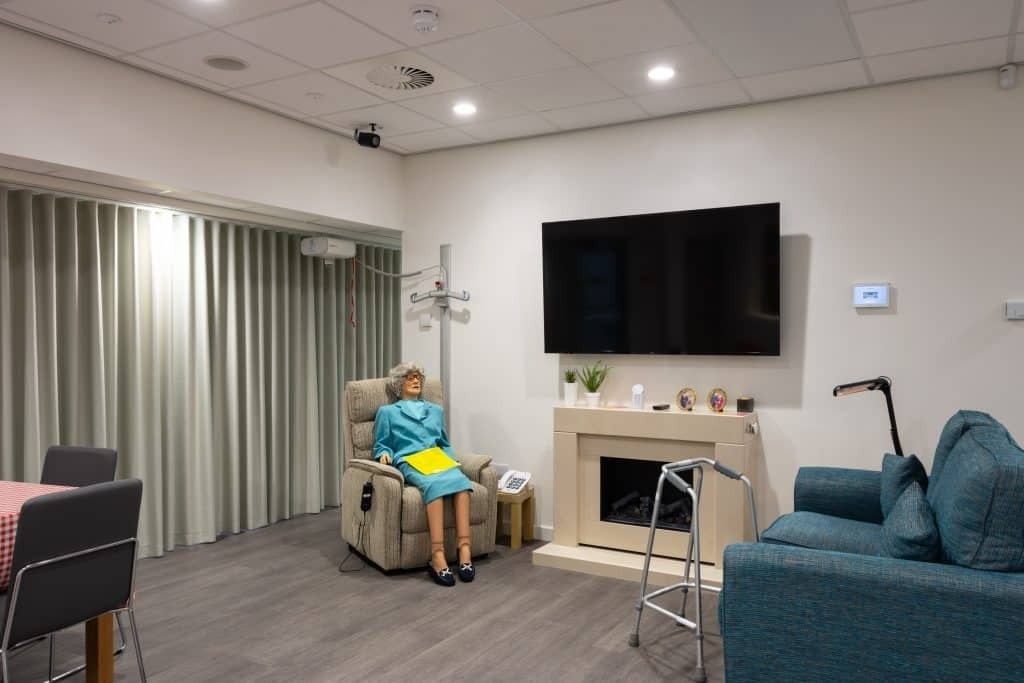 Bedroom
The bed is a Nexus Pro Rota bed which has a handset to alter position and can return an individual to the most comfortable position they prefer.
It has rails to prevent falls and has a pressure relieving mattress so a person can turn on the side for a sitting position.
A monkey pole has been added to the bed to help individuals pull themselves up. This will help them stand unaided or with help from a single carer.
The bed has been built to only need one carer instead of two which helps to maintain independence.
Talking and vibrating alarm clock to help alert people.
The lamp and the bulb are both connected through Wi-Fi allowing them to connect to the Amazon Echo.
Standard bariatric commode.
Sensors around the bed which monitor incontinence, breathing and heart rate
A Dynamap at hospital standard which measures temperature, pulse, and blood pressure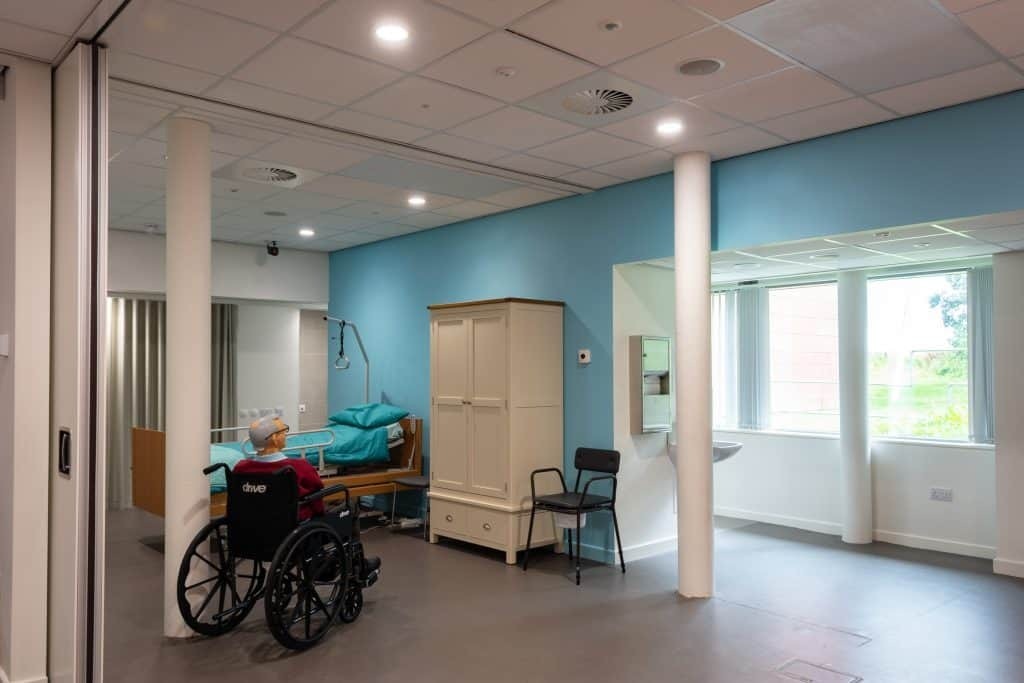 Bathroom
The shower has a wet room style of door which can allow the carer to assist without getting wet. It also helps individuals to sit down in the shower.
It has non-slip flooring which is the same colours throughout the Care Hub, so it does not scare residents who suffer from dementia. The shower can also easily be operated by speech.
Turntable for the hoist which can go on into the shower to help carers
The toilet has a remote control for easy access to flush with it washing and blow drying after use.
Red handrails and towels for contrast against the wall. The handrails can be used for balancing.
Emergency pull cords for falls alerting the appropriate people.
Non reflective surfaces such as on the sink etc and mirrors are covered to avoid any reflection.
Mirrors can be uncovered and angled towards someone in a wheelchair.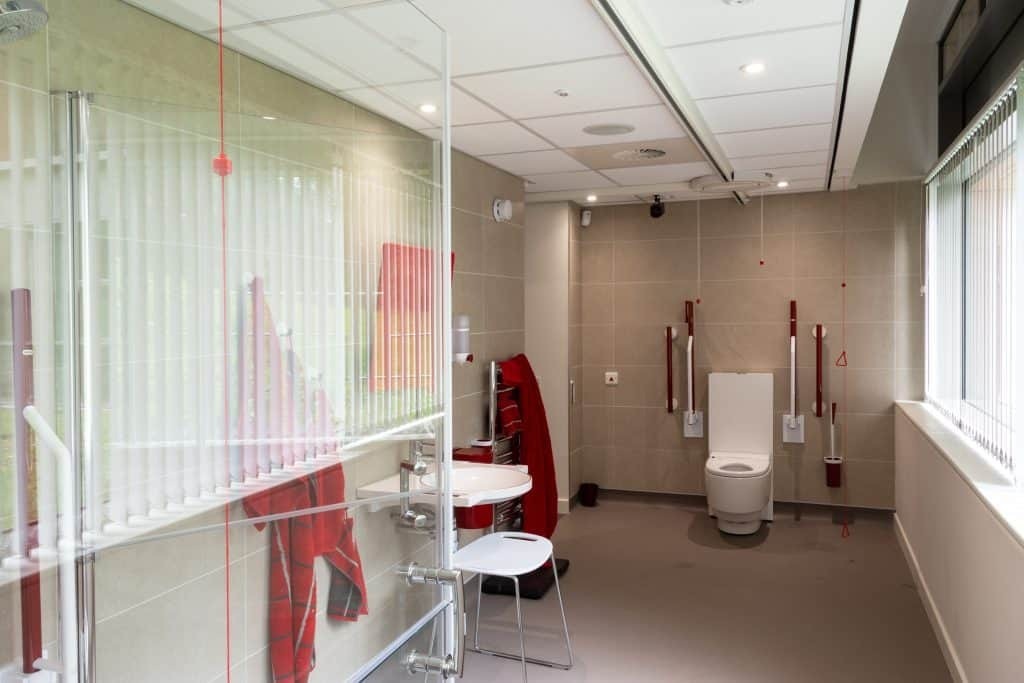 Students
Dumfries and Galloway College students have access to the Care Hub for learning practical skills as part of their qualifications. The technological advanced facility has sensors which can be connected by the Carezapp to monitor patients. The Care Hub also has equipment used by health care professionals to give our students the best learning experience possible to be ready for their future careers or studies.
Teaching students with the aid of our excellent tools gives students the skills and confidence to succeed in the healthcare industry.
The Nexus Pro Rota bed also acts as a teaching mechanism with a biology learning app to help students learn in an interactive way.
The Care Hub rooms are also fitted with cameras, microphones and speakers which can be recorded to watch back or used for remote demonstration. Lecturers can also use this equipment to give direction to students remotely including in Stranraer so all students from both campuses can join at the same time. Screens in the rooms can also be connected to devices with the ability to use as a video conference.
Find out more about how you can join our students with our Health and Social Studies courses.
---
Green Energy
At Dumfries and Galloway College we understand we need to do our part in producing less carbon emission. We are proud to have the Care Hub using renewable energy which is powered by wind-turbine, solar panels and a range of other green energy sources.